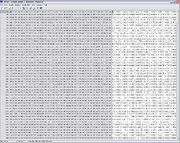 .bf files are the animation files used in Zoo Tycoon 2. They were created by Blue Fang and are similar to .kf files used in other games, however their structure differs. So far we can NOT create new .bf files as we lack converters or exporters. Anyway, existing .bf files can be manipulated to some extent. .bf files can be opened in hex editors.
Ad blocker interference detected!
Wikia is a free-to-use site that makes money from advertising. We have a modified experience for viewers using ad blockers

Wikia is not accessible if you've made further modifications. Remove the custom ad blocker rule(s) and the page will load as expected.