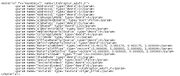 .bfmat files contain the material settings for their corresponding .bfb files. They can be opened in text editors, such as the windows Editor. They have .xml-like syntax and are easy to modify. The names must exactly match the links in the .bfb file, otherwise the object becomes glowing. Unlike texture links in .xml files, the texture link lacks the .dds suffix and the path, only the file name is stored.
Ad blocker interference detected!
Wikia is a free-to-use site that makes money from advertising. We have a modified experience for viewers using ad blockers

Wikia is not accessible if you've made further modifications. Remove the custom ad blocker rule(s) and the page will load as expected.