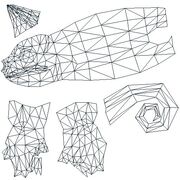 This tutorial explains how to export an UV Template for Skinning.
1. Double-click your .nif file to open it with Nifskope.
2. Right-click the model.
3. Select Texture > Export Template.
4. Click File to browse the destination directory where the file will be saved. You can also name the file now.
5. Choose the Size by clicking the arrow.
6. Leave the other values.
7. Click Ok.
8. Now you can start skinning by double-clicking the .tga file
Ad blocker interference detected!
Wikia is a free-to-use site that makes money from advertising. We have a modified experience for viewers using ad blockers

Wikia is not accessible if you've made further modifications. Remove the custom ad blocker rule(s) and the page will load as expected.