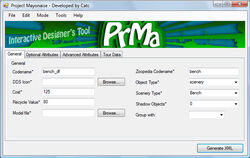 Project Mayonnaise is a program designed by Catc, a very experienced desiger. Project Mayonaise, or PrMa as it is called, can make designing easier in some ways. However, currently PrMa only creates objects such as scenery or rocks. It is also brand new, so some bugs might not be known. PrMa automatically generates XML files based on options the user gives to the program, therefore no need to using Notepad or spending too much time Finding/Replacing. When mastered, it is a very helpful program used by such teams as
Z-Studio.
Ad blocker interference detected!
Wikia is a free-to-use site that makes money from advertising. We have a modified experience for viewers using ad blockers

Wikia is not accessible if you've made further modifications. Remove the custom ad blocker rule(s) and the page will load as expected.